The historic theaters in Downtown Los Angeles are part of a rich cultural legacy that provides insight into the architectural practices of the early 20th century. This project investigates how these monuments were constructed, decorated, and used through in-depth archival research, photogrammetric modeling, and a variety of interactive visualizations including virtual and augmented reality platforms. Our team is composed of technologists, information professionals, and architectural historians that focus on best practices and standards associated with research data management. In addition, we will participate in outreach activities aiming to involve local enthusiasts, experts, and communities.
Historic Theater District, Los Angeles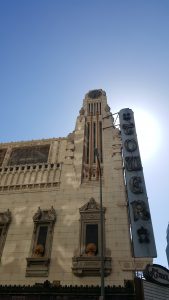 The historic Broadway corridor encompasses one of the highest concentrations of historic theaters on a single street, many of which feature groundbreaking engineering achievements and architectural innovations. Cinematic shows, vaudeville entertainment, and commercial retail thrived along the corridor in the early 20th century and the architectural legacies of this time remain standing today. Advocates for the historic theaters have created foundations and initiatives to restore and revitalize the area.The UCLA Architectural Reconstructions on Broadway Project is working with these groups to document the historic records and theater buildings in order to better understand the architectural practices surrounding these landmarks and to support their conservation.
Two theaters, the Los Angeles Theater and the Tower Theater, feature many of the innovations and design elements of interest to the project. Our research focuses on these theaters, beginning with documents found in the architect's collection—the S. Charles Lee Papers at the UCLA Library. This collection of architectural drawings, blueprints, and photographs is a unique portal to the cultural and architectural influences on the Los Angeles Historic Theater District.
S. Charles Lee
S. Charles Lee (Simeon Charles Levi) was born in Chicago in 1899. Lee grew up in the 
Chicago of Daniel Burnham, Louis Sullivan, and Frank Lloyd Wright, and of particular 
relevance to this project, he grew up alongside motion pictures. Lee went to vaudeville 
theaters, nickolodeons, and early movie houses before moving to Los Angeles at the age of 
21. He quickly began designing technically innovative, elaborative movie palaces within what 
is now known as the Historic Theater District. His theaters pushed the limits on a variety of 
fronts and remain standing today as monuments to daring architectural ambitions and 
immersive entertainment, records of the emerging cinematic culture in Los Angeles.